Vacasa
Redesigning Deep Cleans
The Users
Vacasa's field operations has over 6000 employees across five countries.
Their job is to make sure owners' properties are cleaned and cared for.
Background
As the lead designer in operations, I was tasked to to integrate deep cleans into existing tools. I worked closely with my product and engineering partners to balance
Business and user needs with

Technical feasibility

Keeping reasonable timeline
As a result, the company has more visibility into the status and count of deep cleans completed, is able to pay contractor housekeepers 2-3x faster, and keep track of when and why deep cleans are skipped.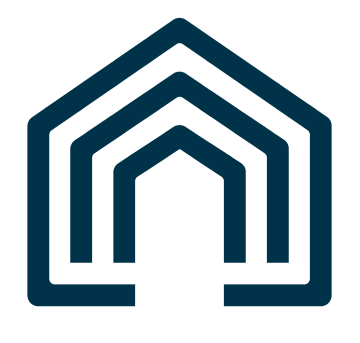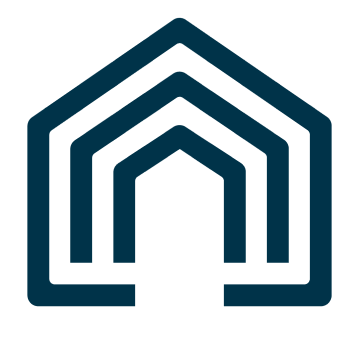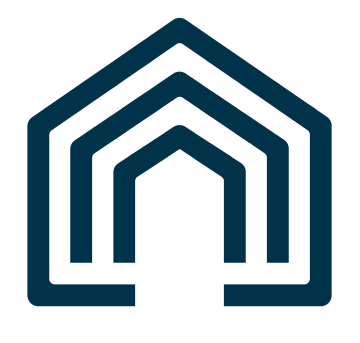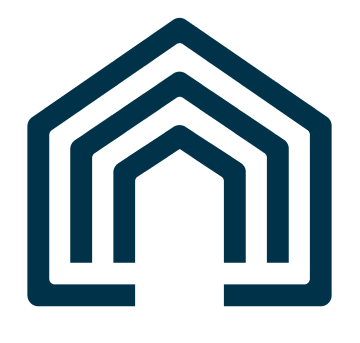 Problem
Deep Cleans are extensive cleans that take 2-3 times as long as a clean after guest stay. They are an expensive and hard to track process for the company.
Operations managers are often overwhelmed with hundreds of deep clean job-orders dropped in their lap, and scramble to improvise with custom spreadsheets to notify owners, ensure completion of the cleans, and follow through with payment to housekeepers.
Solution
Moving away from spreadsheets, we brought deep clean scheduling, tracking, and completing into the existing housekeeping apps, increasing visibility and tracking across the company.
We also automated the invoicing and billing process for contractors, eliminating the need for management to receive paper invoices in the mail, send emails around one-by-one, and follow up on payment.
Timeline
Overall: 8 months

Discovery & research:
2 months

Design & testing:
3 months

Development:
3 months
My Role
UX researcher

Workshop facilitator

UX/UI Designer
Team
Lead Product Designer (me)

Principal Product Manger

Engineering Manger

Dev team (~8 devs including front-end, back-end, and QA)
Tools
Figma & Figjam

Dovetail

Google forms (survey)

Usertesting.com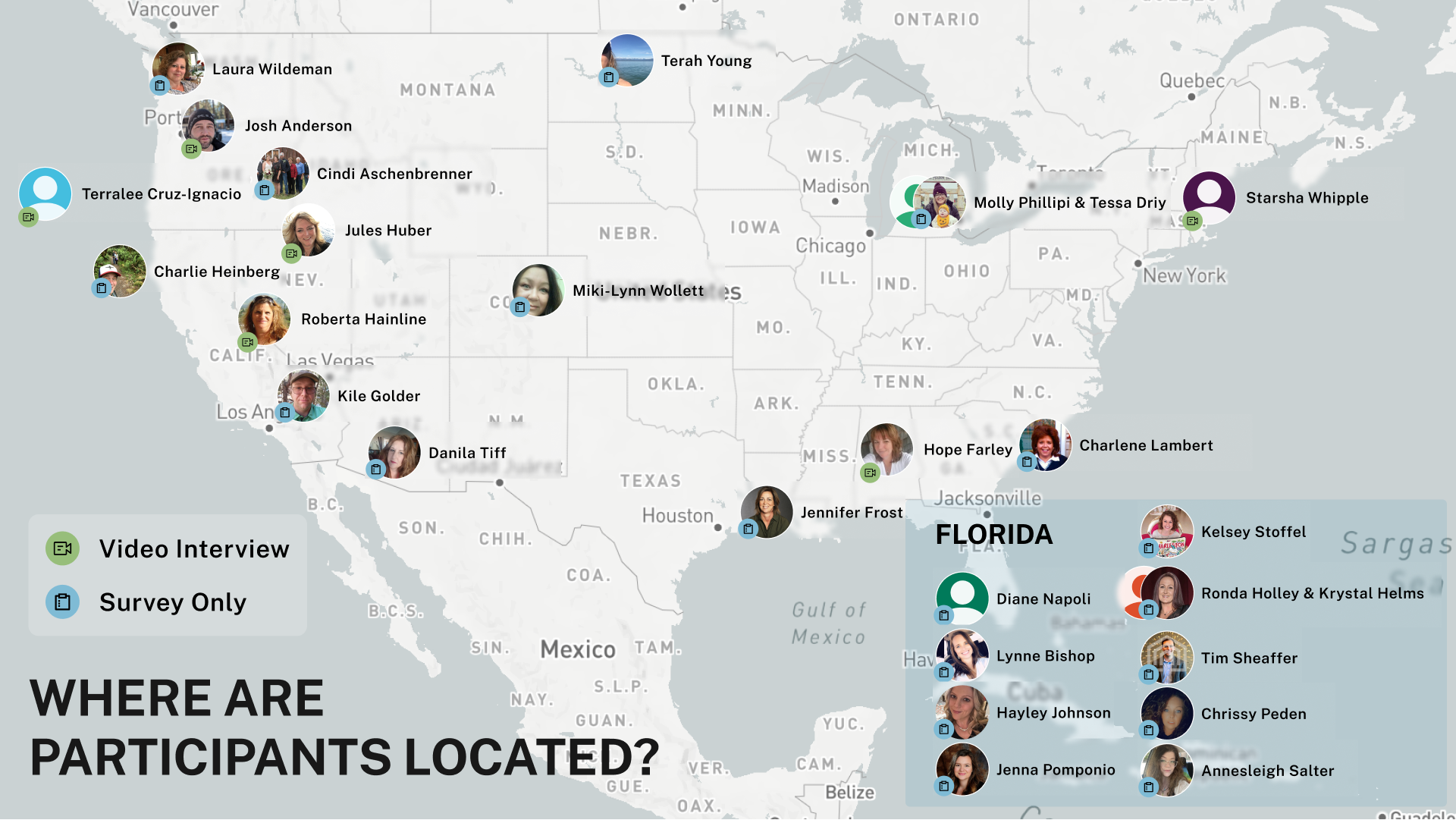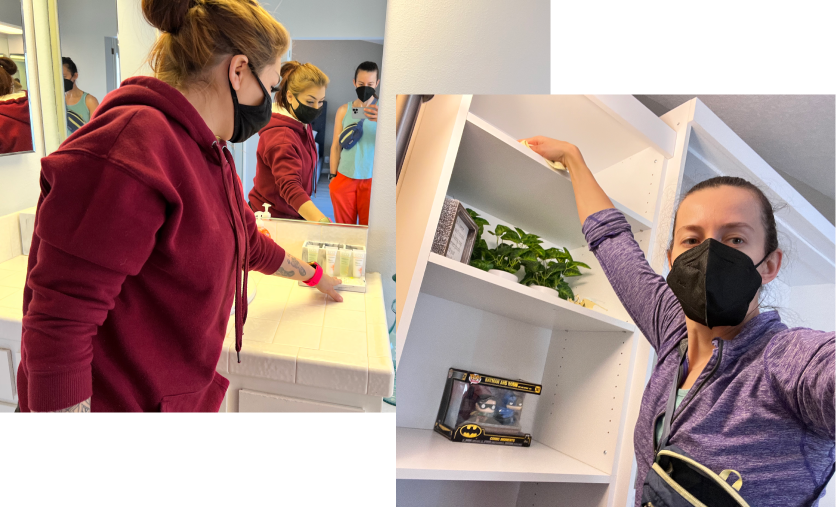 Interviews, Surveys, and Field Study
During the discovery phase of the project, I conducted interviews and sent surveys to find out more about deep cleans. I wanted to know:
What they where, and how they differed between markets.

Why they were important.

What was frustrating and inefficient about the current process.
I conducted 7 interviews and received 21 responses to my survey. I also visited two different locations to do contextual inquiry. I participated in cleaning while asking housekeepers questions of their experience.
Insights
Implementation needs some TLC
Deep Cleans were implemented as maintenance tickets to so work can be assigned to individual housekeepers or vendor, with a built-in way to bill hours back to a homeowner.

However, these tickets are not easy to schedule, make it hard to communication between all the parties responsible for making it happen. They are not integrated well into tools already in-use.
Adverse downstream effects
Difficulty in financial forecasting

Increases administrative overhead

Homeowner confusion
Workshops and Ideation
Opening the Problem Space

Sharing findings with my team
After presenting the current process, I asked them to identify all the problems they saw in the form of a workshop.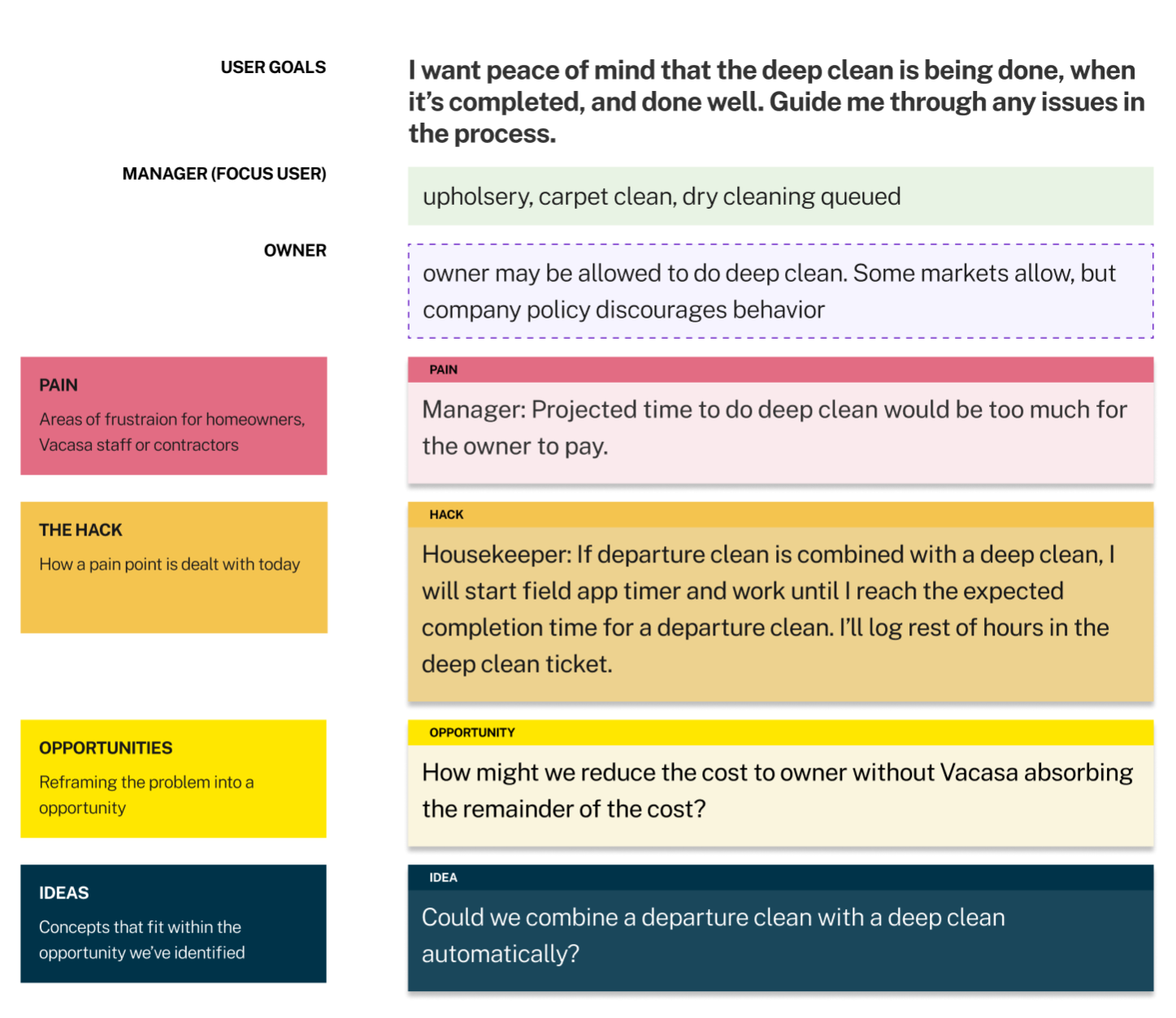 Mapping pain-points
Using the problems my team outlined, I created a full journey map, focusing on our target user, the housekeeping manager.
I modified the standard template to include what I coined the 'IHOP' or rows for ideas, hacks, opportunities, and pains. Hacks were an important part of how users dealt with the inefficiency of the current process, and gave us ideas on how to meet them in the middle.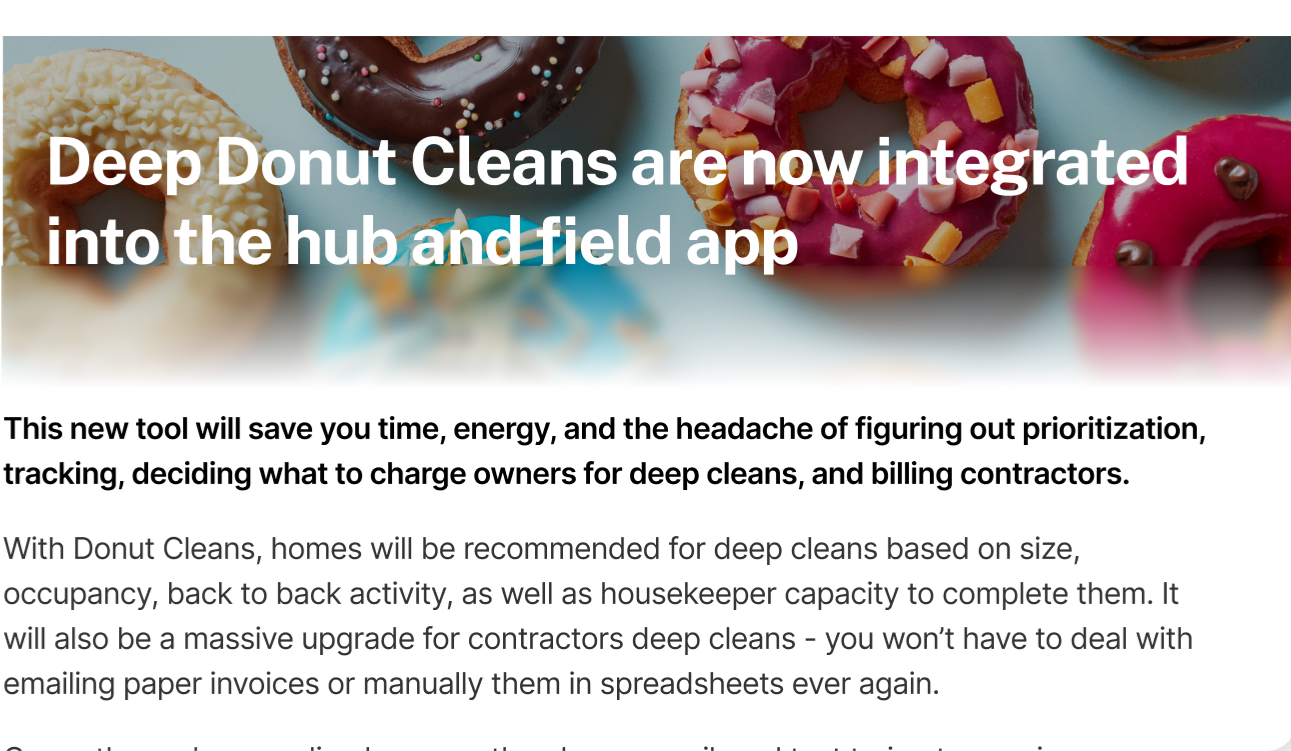 Future Press Release
In another workshop, I introduced the future press release method to help us with our north star and framing solutions in terms of outcomes for users and stakeholders.
I worked together with my product and engineering partner to craft this artifact which we referred to along the way to ground us in the outcomes we wanted.
Narrowing the Problem Space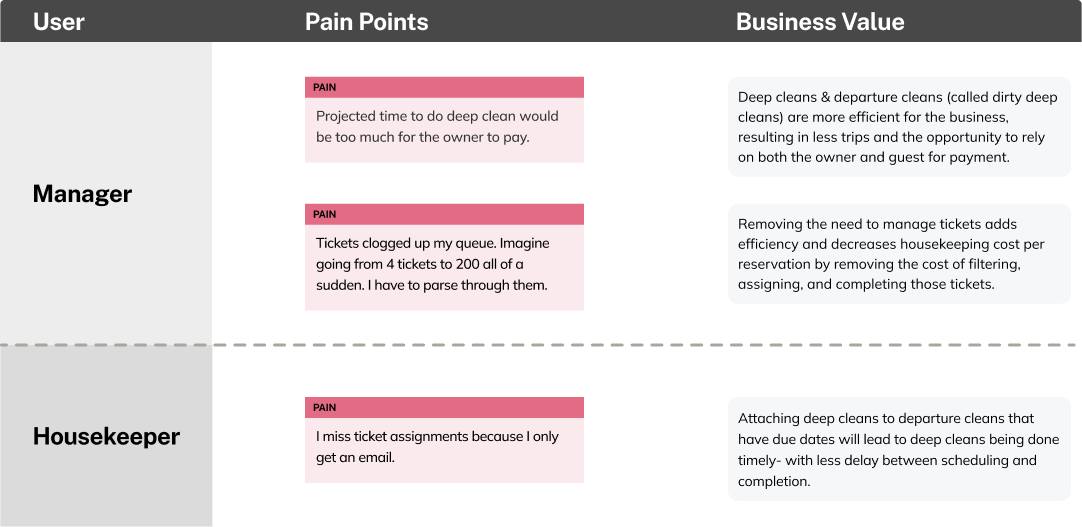 Aligning User and Business Values
Due to the generative nature of research, I uncovered way more problems than my team could actually solve, which needed to be narrowed down so we could successfully enter the solution space.
My product manager and I worked together to map business to user values. The result helped me prioritize those pain points that were also high business values.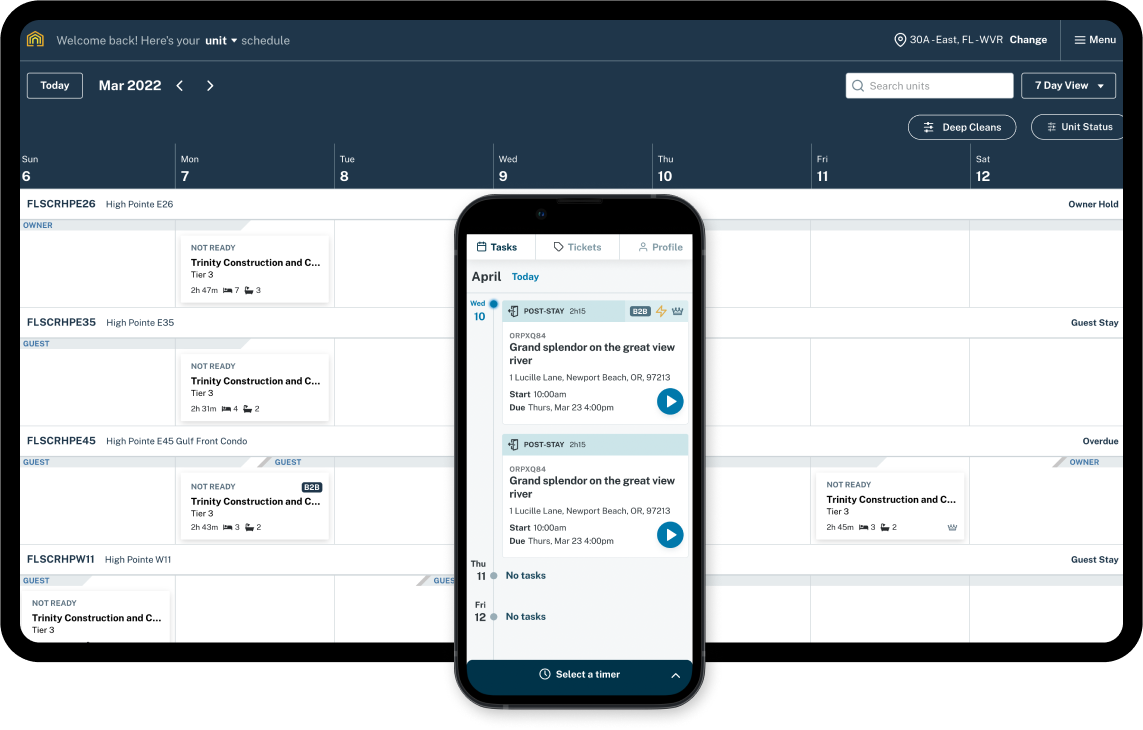 Also, problems need to be solvable within existing tools
1. The Field App, which is primarily used by maintenance and housekeeping staff/contractors - those who are on the ground doing the work. It is a mobile-friendly PWA that shows the users their work to do.
2. The Homecare Hub, used by managers primarily on desktop or tablet to orchestrate timing and prioritization of work. It's a big picture view of what everyone is doing, and what each home's status is.
Getting into the Solution Space

Brainstorming How
I ran a workshop to brainstorm possible solutions that had business value & our team could actually do something about.
I used the following template from the book Lean UX by Jeff Gothelf and Josh Seiden:
We believe we will achieve [this business outcome]
if [persona(s)]
attain [this benefit/user outcome]
with [this feature/solution]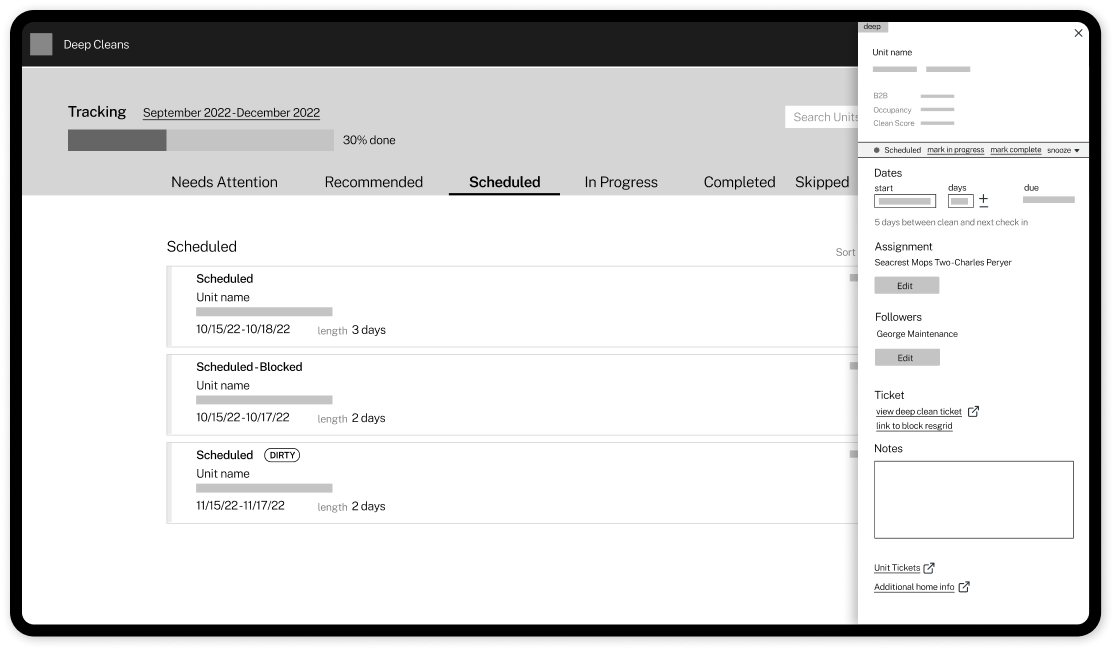 First Idea: New page in the Homecare Hub
Using Figma, I started with crafting low-mid fidelity solutions in the Hub first. We were attempting to solve many problems in one fresh view.
I tested this idea with 6 users. Some features that tested well:
Snooze functionality to make a clean go away until a specific date.

1-way notes about the unit, specific to the deep clean.
Iteration and more Testing
Technical challenge
Although I checked technical feasibility with the engineering team, I didn't explicitly ask how much effort would be needed to implement the wireframed solutions.
It turned out that the creation of a completely new page and UI as a solution were too big of a lift given the timeline we had.
To get past the hurdle, I took the learnings from testing and simplified successful features into the existing interface.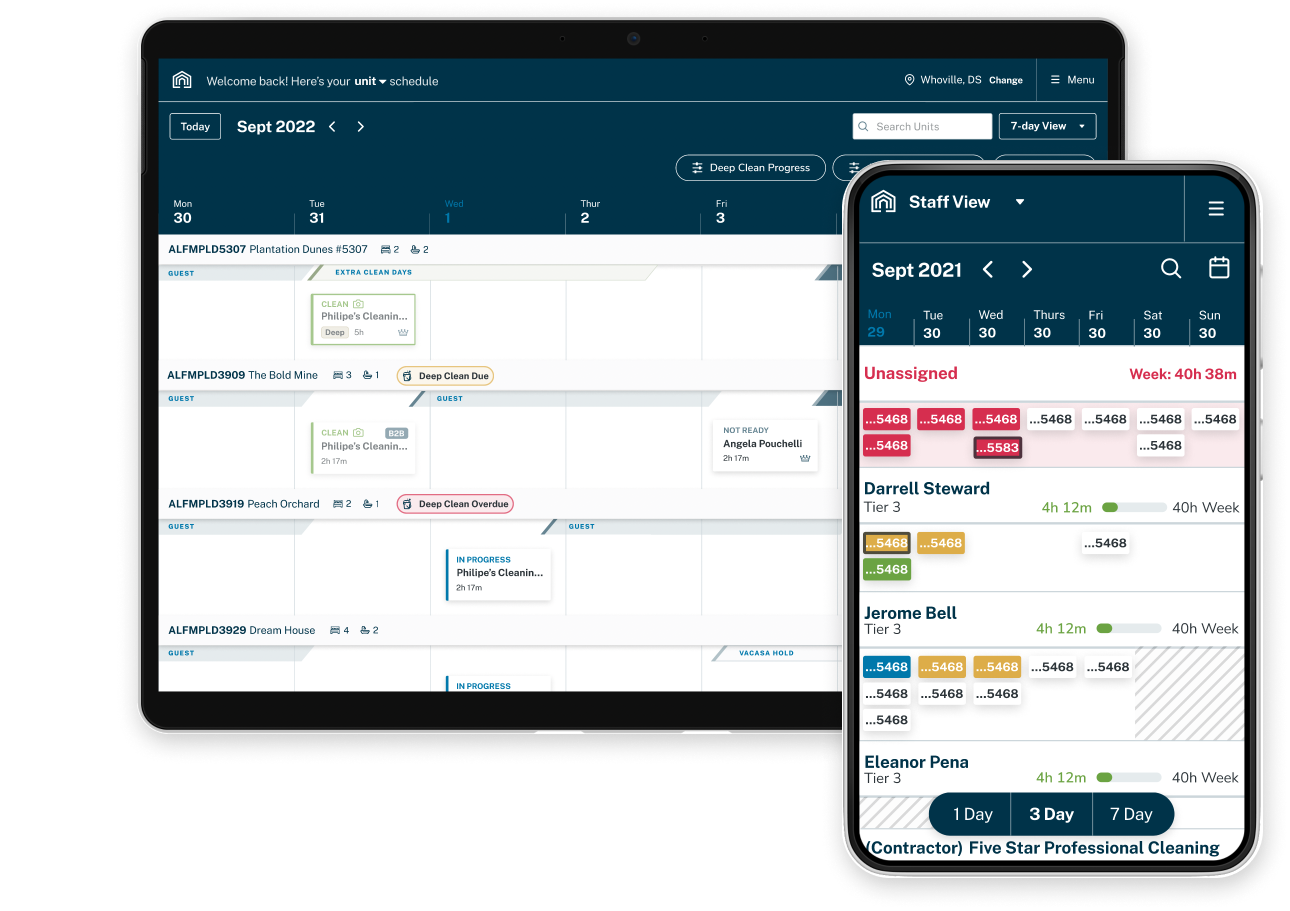 User Interface - a Constraint and Challenge
Since this project added capabilities to existing apps, and it was clear that I had to keep UI changes to a minimum to stay within the timeline, I turned my focus towards learnable interactions where I couldn't create intuitive ones.
Design System: I updated a few elements, but kept changes to a minimum.

Responsive design: I accounted for responsive breakpoints for desktop, touch-screen tablets, as well as mobile phones.

IA improvements: I improved the information architecture to allow the new features to fit better.
The deep clean initiative took dozens of JIRA tickets to complete. I was there each step of the way to help tweak designs, and make trade-offs for dev cost vs. user experience in order to finish within the allotted timeline.
I also worked with product and engineering to revisit edge cases such as:
What if a housekeeper tasked with a deep clean gets to the home and realizes he/she/they can't actually complete the deep clean, but could still do a post-guest clean. Maybe the power is out or a more urgent clean gets assigned on the same day.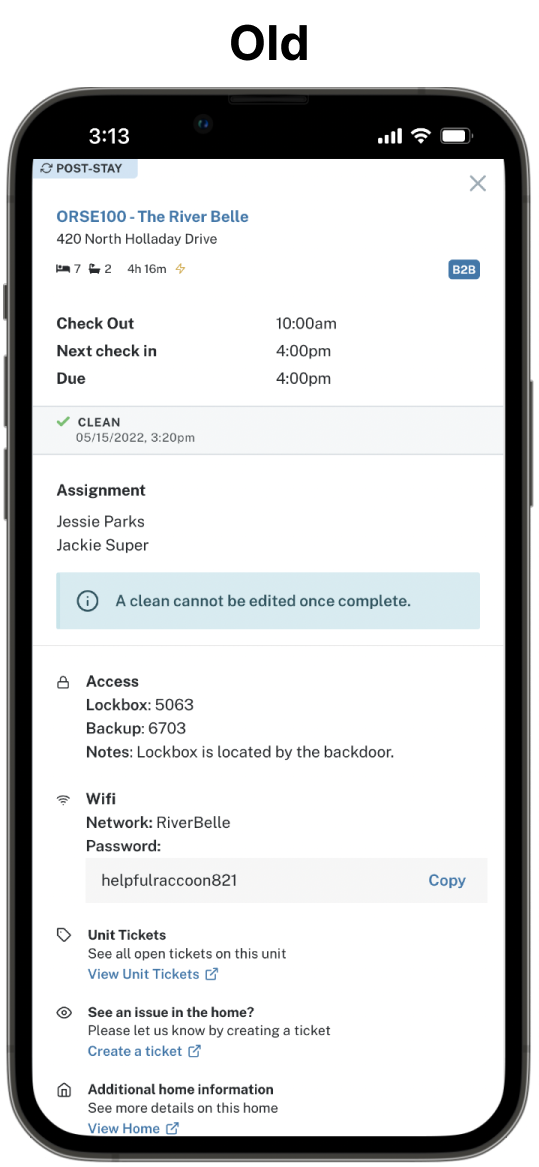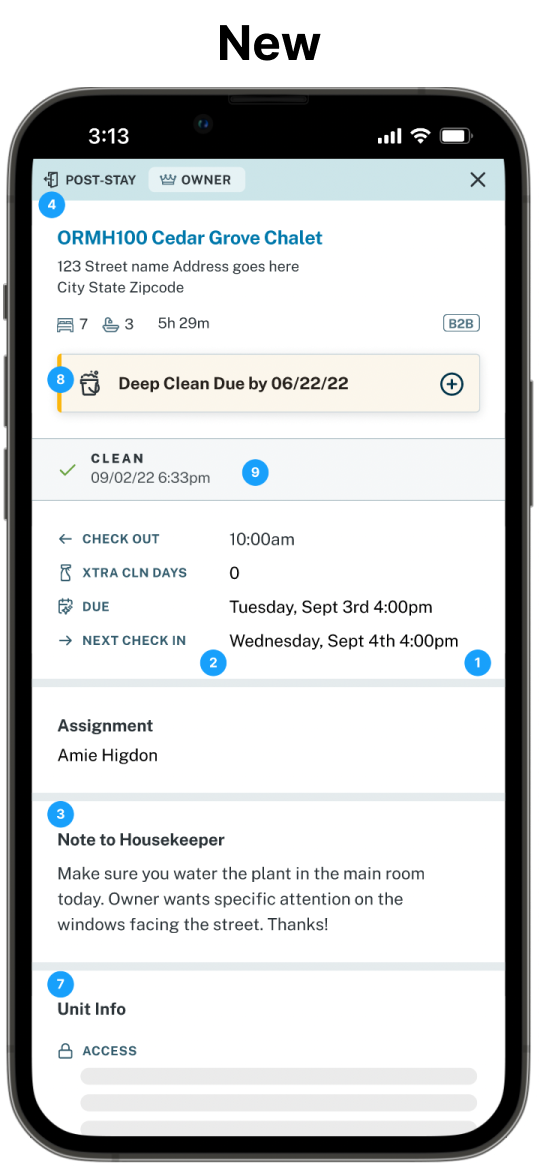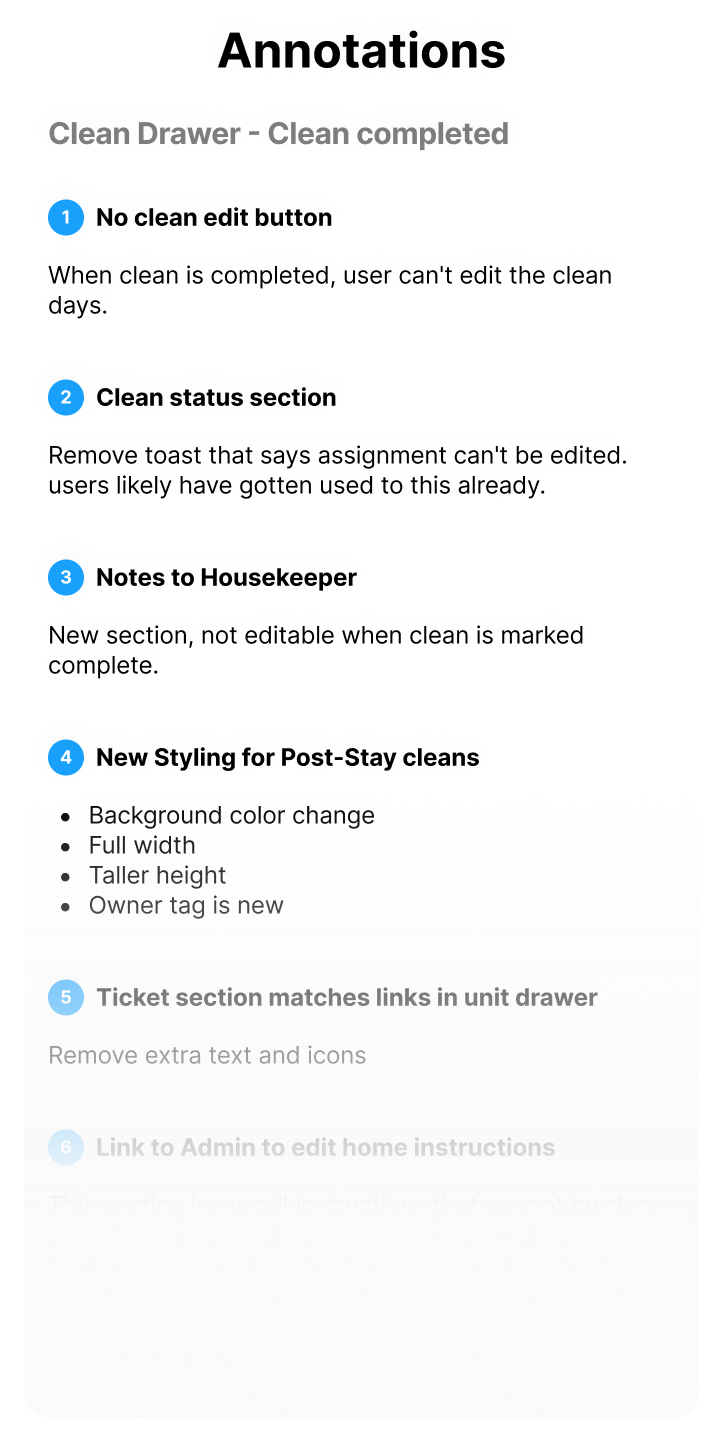 Final Designs
New features lived all over the product. I communicated the full scope of the change by the way of a walk-through video.
Pre & Post Launch Studies
System Usability Score (SUS)
Employees' deep clean process changed drastically; our UX goal was to not make it worse. Our intent was to turn this into a longitudinal study over time and work to improve this metric as we iterated throughout the next few years.

Customer Satisfaction (CSAT)
"So far, how satisfied have you been with the systems Vacasa offers to help you handle deep cleans?"
We collected responses before and after release, from a scale of 1: It's terrible to 5: Amazing. Clearly, there's room to improve, but users appreciated the changes we made and from a UX standpoint, it shows we are moving in the right direction.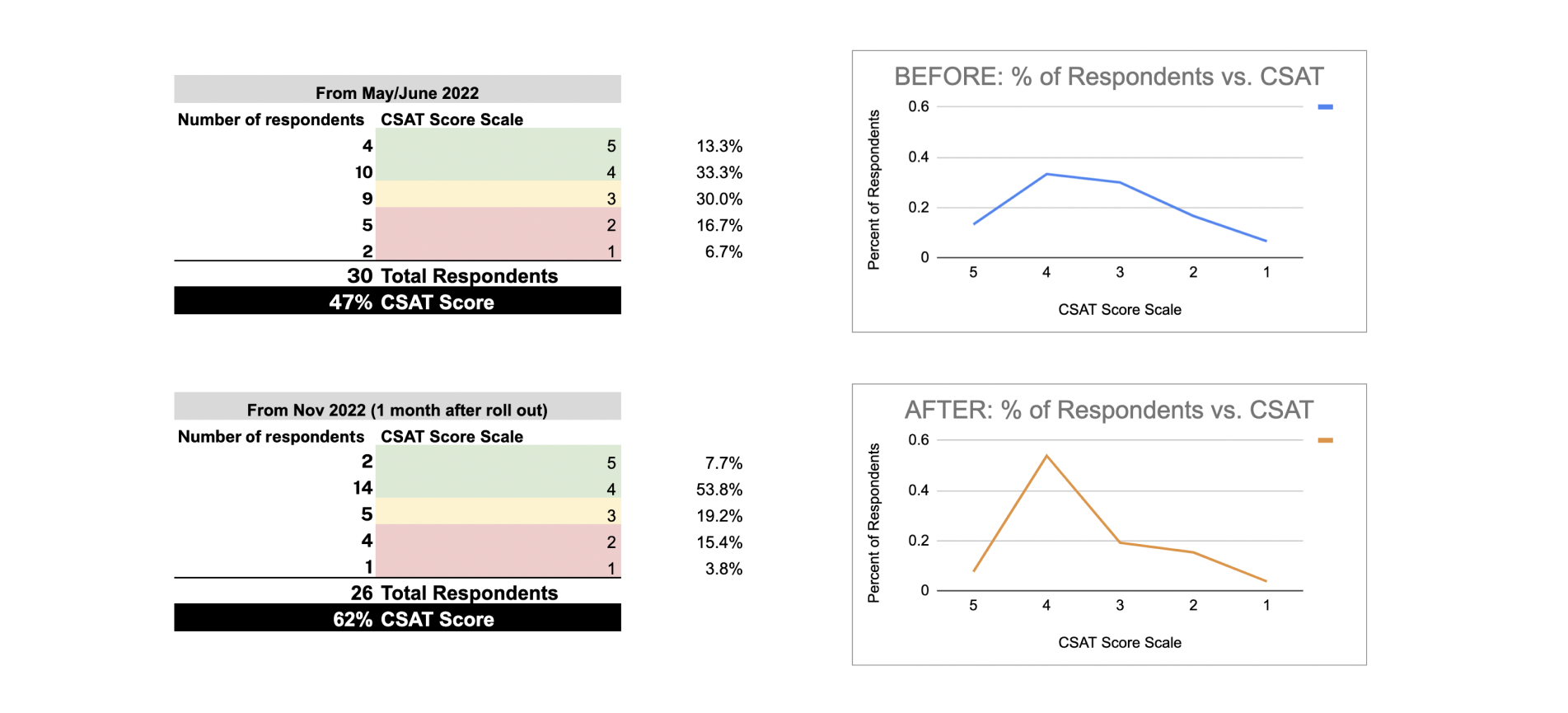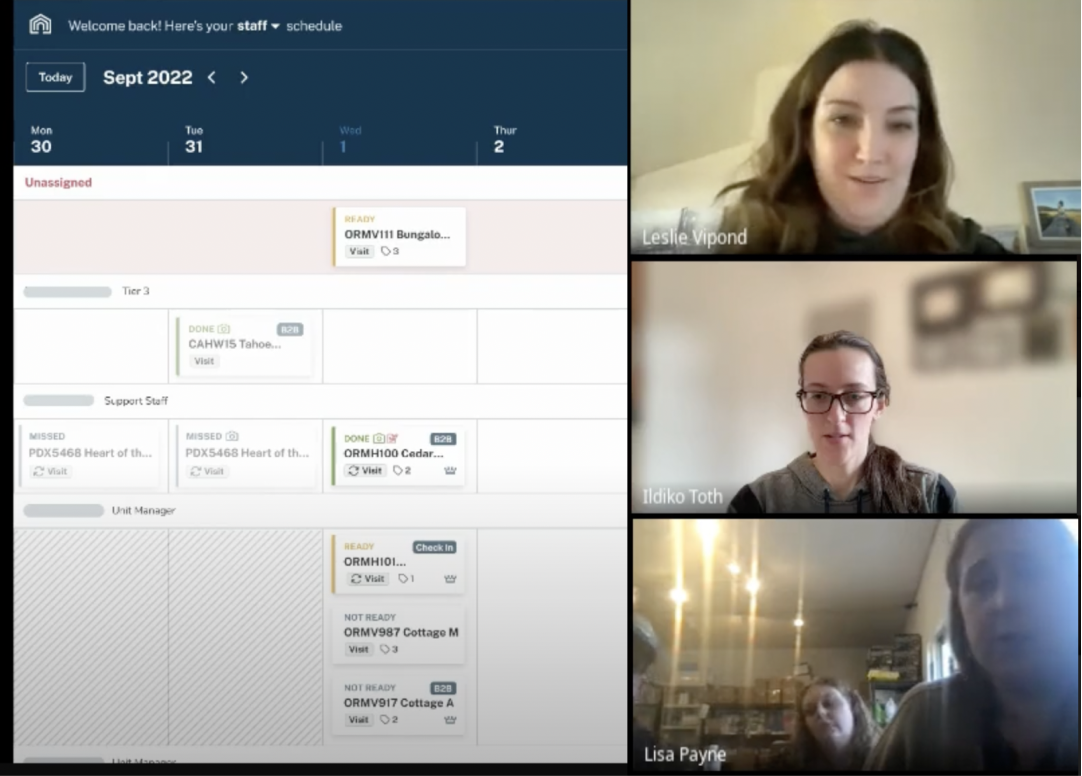 Observation Sessions
I completed three sessions observing users trying out the new process, some for the first time, some who had tinkered with it already.
I brought the results back to the engineering team in the form of video-snippets and a summary of what worked well, and what needed more iteration.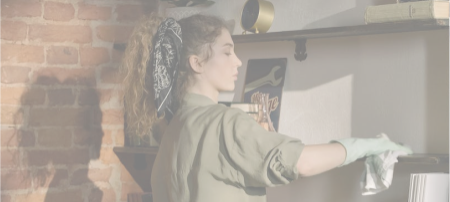 What could we do better next time?
Show deep clean length clearly on the calendar.

Allow planning farther than three days out.

Allow managers to convert a guest check out clean into a deep clean after housekeeper has started cleaning.

Rollout was very sudden and overwhelming
Rollout Improvements
The "sudden and overwhelming rollout" was a strong piece of feedback that we took to heart and improved on for the next project, rolling out to an alpha group as soon as we had something developed for users to try out. This change was welcome, and gave us a group of champions that could coach the rest of the team once fully rolled out to the entire company.
A note on Designing for Offline and Poor Service
Users were always on the go, and often in areas with poor or no service. Throughout my design process, I had to integrate the following questions in my process:
"How will this work offline?"

"If there's poor service, will a reload or slow load of information cause reliability issues (eg. inability to access a home to clean?)"